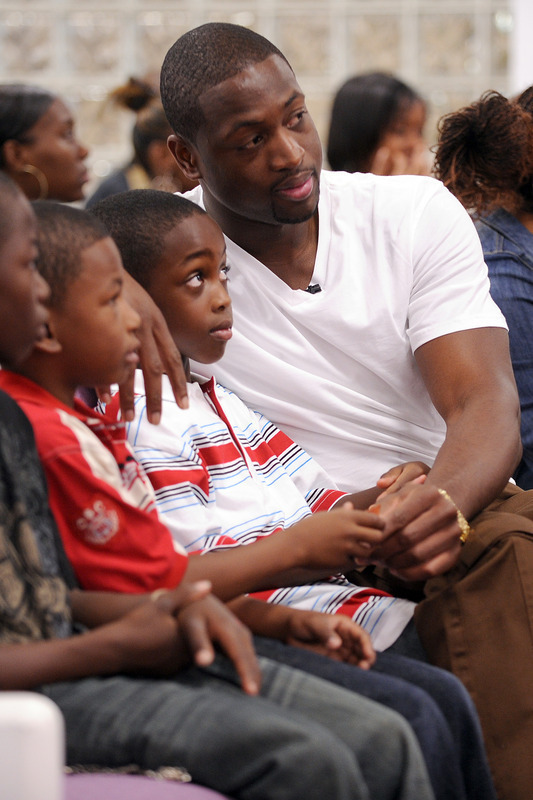 They may be competitors on the court but off the court, NBA players Lebron James and Dwayne Wade are friends. In fact, Dwayne's son Zaire is Lebron's biggest fan. Last summer, Wade asked James to surprise his 7-year-old son Zaire Wade.
"I asked [LeBron] what he was doing, and asked him to call Zaire for me," Wade  told The Miami Herald . "I gave the phone to Zaire, didn't tell him who it was, and they had a conversation. I don't even know what they talked about. I excused myself from the situation."
Later when Wade returned, Zaire was still on the phone with James.
"All I know is I got the phone back, Zaire fell on the floor yelling and was like, `I can't believe I just talked to LeBron.' " Wade said. "It was so funny. He loves LeBron."
So what does Wade think about his son's admiration for another player?
"When I play him[in video games], he always gets Cleveland and plays as LeBron," Wade said. "When they automatically sub LeBron out of the game, he's mad. You love certain things about LeBron, so that's cool. It's kind of cool that [Zaire] has his own identity and his own favorite player."
Dwyane has another son named Zion Malachi Airamis Wade(born May 29, 2007), with whom he had with his estranged wife Siohvaughn.