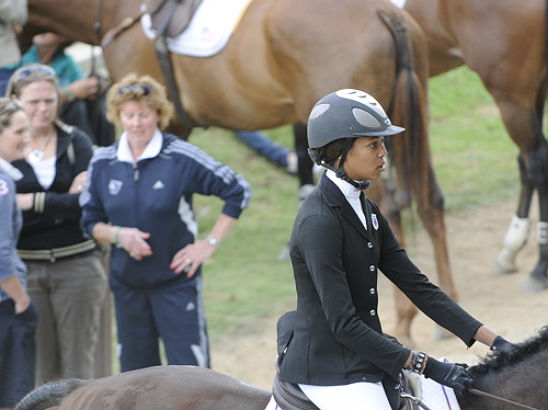 You know that she is the daughter of actress Alfre Woodard and writer/producer Roderick Spencer, but what do you really know about Mavis Spencer?
1. Mavis was born on June 13th, 1991.
2. She graduated from Los Angeles' Harvard-Westlake School last year and will begin Columbia University this fall.
3. She is a nationally ranked equestrian. According to JustWorldInternational , "Mavis Spencer began riding with coaches Dick Carvin and Susie Schroer in 2000. Under their tutelage, Mavis has advanced from the three-foot equitation division to competing in the 2008 Adequan/ USEF National Junior Jumper Championship in Harrisburg, Pennsylvania, where she won Team and Individual Silver medals and was honored with the William C. Steinkraus Style of Riding Award."  She also recently participated in the Australian Youth Olympic Festival in Sydney, Australia.
4. She  has appeared in Teen Vogue and InStyle Magazine, and plans to model and study acting at Columbia University.
5. According to many credible sources, Mavis and her brother Duncan are adopted. However, neither Alfre nor Roderick have made statements to corroborate this bit of information. In fact, Roderick has written about his children many times: click here to read one of his posts on his "bi-racial" kids
Photo: Franz Venhaus