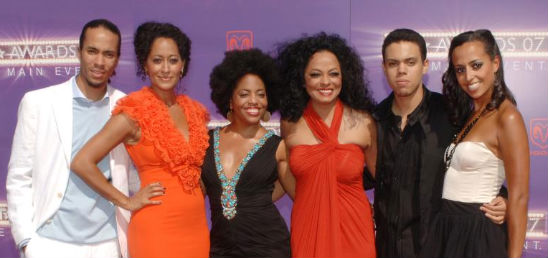 Earlier this year, Blackcelebkids.com announced that actress Rhonda Ross(in the black dress), the daughter of the legendary Diana Ross, was pregnant with her first child. Rhonda has since given birth to her baby, a baby boy named Raif-Henok Emmanuel Kendrick, born on August 7th, 2009.  The new mom recently sat down with BrezzyMama as well BVonline to talk about motherhood.
On being a new mom:
I am completely in love with my newborn son, Raif. I knew I was going to be. I've wanted to be a mother for a long time, but –like most parents– the depth and scope of my love for this child simply takes my breath away. My husband and I are loving every minute of it!
On whether or not grandma Diana Ross has babysat:
This is my mother's first grandchild and, suffice to say, she is having a BALL! She was by my side throughout the entire pregnancy and birth and now, though she still travels and tours, she spends all of her free time with her new grandson! We've done all the "firsts" together…first diaper change, first feedings, first bath. It's been so amazing!
On whether or not Diana Ross sings to Raif:
Not only does my mother sing to Raif, but she wrote a gorgeous song for him! It will probably be on her next record. When she sang it to me, I cried.
Raif LOVES music. Okay…I know he's only 3 months old, but he really loves it!! Not only do I play music for him all the time – all kinds: Jazz, Gospel, and Classical, but we put him in his bouncy seat near Rodney's piano while he practices and, even at 3 months old, he listens and watches for 20 – 30 minutes at a time! He even seems to tap his foot! Like an adult, my son is mesmerized by the sounds that his father pulls out of that instrument. It's quite amazing to witness.
Read more about life with Raif at BreezyMama.com
On balancing motherhood with work:
They say if you want to get something done – give it to a busy person! I am a very good manager of my schedule and am very efficient with my time and attention. I spend my moments deliberately — I try not to "waste" any of them. I don't gab away on the phone with "nothing to say," I watch little to no television and when I do, it's an intentionally chosen program or movie — usually inspirational or educational.
The first thing I do is get real. There are simply not enough hours in the day to do everything. I do the parts that require my personal attention and delegate the rest! I am very blessed to have help where I want it. For instance, I have a wonderful housekeeper and recently I have been ordering meals from Fresh Direct (cleaning and cooking have been a challenge with a newborn), but I don't have a baby nurse or a nanny — my husband and I are very hands on with our son and feel strongly about doing everything regarding him ourselves.
Also, I prioritize. I believe that my health and happiness come first because if I don't feel good, if I'm not healthy, I can't manage everything and everyone else. I make sure to sleep enough (yes, even with a 3 month old!), I eat well, exercise, meditate and pray daily. This gives me a foundation on which to build.

Read more about how Rhonda balnces work and business at BVOnline.com