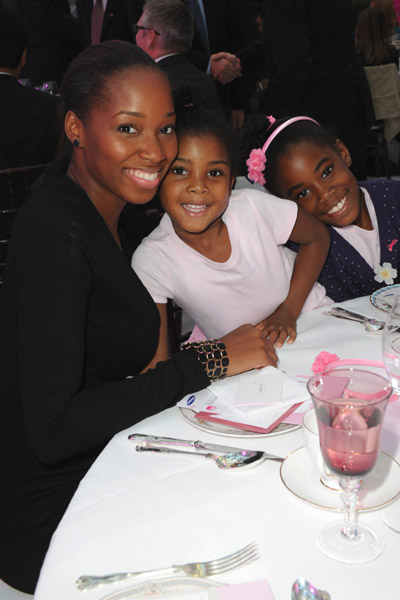 Jamelia Niela Davis, known by her stage name Jamelia, is a British singer and a model who resides in the United Kingdom. Earlier in the summer, the mom of two sat down with Jawn Murray of Aol Blackvoices to talk about motherhood, her career, and why she chooses to seldom wear hair extensions.
On balancing motherhood and work:
…I just think that being a parent is not an excuse for to not be an artist and being an artist is not an excuse for me not to be a good parent. I just think it all works because I want it to work and because I so want to do everything that I do. I home school my children so they can come everywhere with me. I'm going to Atlanta for a month and they're coming with me. They have that freedom partly because I home school them. I'll be normal mommy in the day and go into the studio at night. I make it work because I really want it to.
On homeschooling her kids:
It's one of these balancing act things. I found out that my children were losing out and I got to the point where I had to make a choice. It was either my career or my children and obviously my children would win hands down. Then, I tried the whole school run thing and being a housewife, but it was just so not for me. I felt like I was dying. I thought that there had to be a way for me to have it all. I'm one of those people who say I can have it all. I watched this DVD called 'The Secret' and I started reading a lot of books and I was like, 'I can do this. I'm gonna find a way.' It was actually my eldest daughter who came to me and said, 'mommy, why can't we be home schooled?' I was like, 'What do you know about home schooled?' She did and we tried it for a couple of months and it's just worked out great. It's been nearly a year now and it's given me the opportunity to pursue my career and for my relationship with the children not to dwindle or suffer.
On the London Paparazzi:
One thing that people don't realize is that anybody who gets followed by the paparazzi all the time whether or not it was in the beginning or not it was courted. They made it happen and made arrangements for where one of them would be. You get the paparazzi if you want the paparazzi. I know where to go and I know where not to go. Sometimes I do make mistakes. There's a place in London where they always have these street performances and sometimes I'm stupid basically. I took my daughters there because they have never been there before. Obviously it's a massive crowd so first I started getting mobbed and then the paparazzi started coming. Then, the paparazzi followed me to my hotel so they knew where I was staying and it's about making the right decisions. My private life is not for sale and it's totally separate to my life as an artist and a performer. I don't mind being pictured while I'm Jamelia the singer, but Jamelia at home is not for sale.
Jamelia did a documentary 'Jamelia: Whose Hair is it Anyway?' for television network BBC. It appears that her documentary may have opened her eyes about the hair industry.

On wearing hair weaves:
I've never said that I would never wear hair extensions again. I haven't since I've done the show, but every time I see hair extensions I think of that little girl who was getting her head shaved off which was heartbreaking. I've always seen the positive changes that the hair extension industry has made in India so I'm definitely not against them. I just think that people need to be made aware of where their hair comes from. If I was to wear hair extensions again, I would know where they came from and that the people gave their hair willingly and it was in a very well ventilated and all of the people in the factories were looked after. I would do that research before I put them in my hair. It's kind of hard to do that right now so they haven't been in my head. I was approached by a TV company to make a documentary on the industry. It was something that I had never thought about before and I was just like, 'Wow, this could be really interesting.' It was just the most amazing trip of my life and to learn what I learned and be there first hand in a factory where they've got miles of hair in these little bundles you're just like, 'No way.' They're actually shampooing it by hand and you just don't think about all of the hard work that goes into it. I'm someone who can't keep weave in my hair. I will have it in for a photo shoot and then you're taking it back out. I also haven't put it in because I want to appreciate this hair that someone has given me and I would have to keep it in for a while and I don't think I could so that's why I haven't. It was a brilliant experience and I'm so glad that I educated so many people. Again, I'm not against the hair extension trade, I just want to make sure that it's fair and that people are just thinking about where it came from and not using the rat hair. It's not a good look.
Jamelia is married to UK soccer player Darren Byfield.