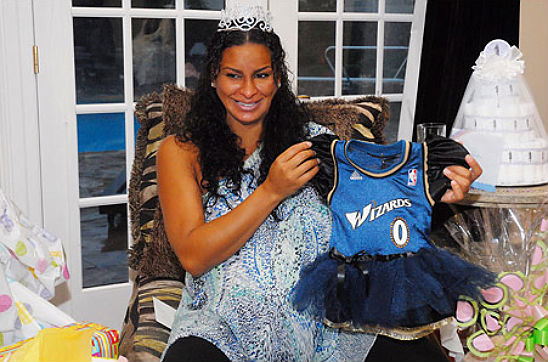 NBA star Gilbert Arenas is expecting his third child this winter. Gilbert and his fiancée Laura Govan(pictured) are expecting a baby girl due on December  24th. Last weekend, Laura was surprised with a baby shower which was attended by her closest friends and family members.
Gilbert, 27, and his wife-to-be, 30, have been together eight years and have two children: daughter Izela, 3, and son Alijah, 2. Laura says that Gilbert is very good with his kids.
"Gilbert takes the night shift," said his fiancee. "He's so diligent when he's home — takes the kids to school in the morning, picks them up after practice, changes diapers. He's amazing."
Although she is now engaged to the Washington Wizards' player, Laura says that she is in no hurry to marry.
"We're just comfortable," she said. "I love the fact that we've grown up together. I watched him grow from a boy to a man. I feel like we're married already. We're not in a rush. I'm not going anywhere, he's not going anywhere."
Trivia: Did you know that Gilbert is of Cuban and African descent?