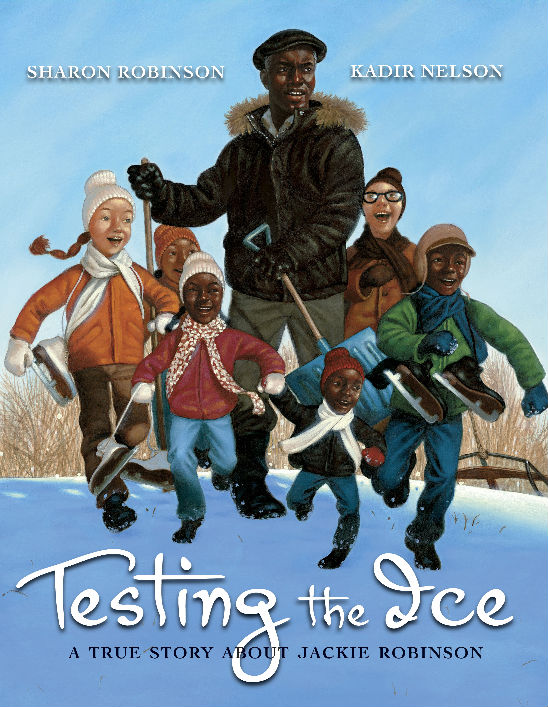 One (1) winner will receive a TESTING THE ICE prize pack!:Kidorable Hat, Glove & Scarf set (random styles – see  image below)and a copy of Testing the Ice valued at $52.99.
Four (4) additional winners will receive a copy of the book! valued at $16.99 each
Sharon Robinson, the daughter of the late Baseball Hall of Famer Jackie Robinson, has written a beautifully illustrated book about her father.  Here is a little description of the book:
"In the early 1950s, legendary baseball hero Jackie Robinson literally "tested the ice" for his kids who so eagerly wanted to skate on the frozen lake near their home. Under Sharon Robinson's skillful authorship and Kadir Nelson's vivid illustrations, TESTING THE ICE also becomes a stunning metaphor for her father's remarkable racial breakthrough."
Watch the video below to learn more:
**Entry Rules**
– Please leave your real name and email with the subject heading "Giveaway"(Neither your e-mail address nor your name will be published). Feel free to leave a message if you want:)
-5 winners will be chosen at random.
 -Entries are open to USA residents only. If you are an international reader, you are more than welcome to enter , but you must have a friend in the States who can accept your prize by mail.
-Chosen winners will have two days to reply via  email to BCK.  Unclaimed prizes will be forwarded to newly chosen winners 
 -Must be at least 18 years old to enter(so if you're younger, then have a responsible adult consent)
 -One entry per person, entries accepted through October 14th to November 3rd,2009.
BCK Says: BCK owns this book and definitely approves  of  this beautifully illustrated children's book. The images as well as the engaging writing will draw you in. In addition, readers will learn about a time when segregation was at its greatest and yet still, one man decided to make a leap to break the color lines.
[CONTACT-FORM]
Want to buy the book for yourself? Then Click here to buy it!