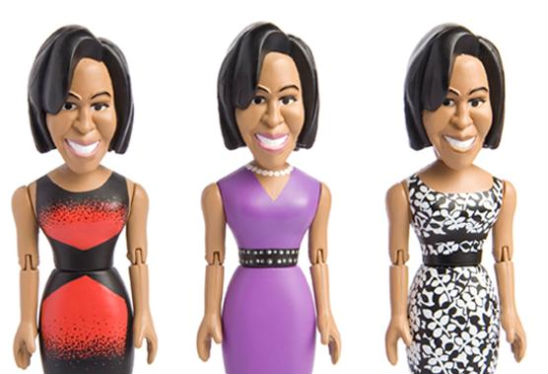 These Michelle Obama action figure dolls are said to be the hottest new toys on the market. There is a Barack Obama action-figure doll as well. But would you spend your money on these interesting-looking dolls?
What: Michelle Obama and Barack Obama action figure dolls
Description: The Michelle Obama 6-inch doll comes with three outfits to choose from: A purple dress, a black-and-white dress, and the red-and-black dress, all of which Michelle has worn in real life. Both the Barack and Michelle dolls were made by company Jailbreak Toys.
Product Highlight(s):N/A
Price:$12.99
Where to Buy: JailBreakToys.com
BCK Says: The White House had no comments to make about these dolls.