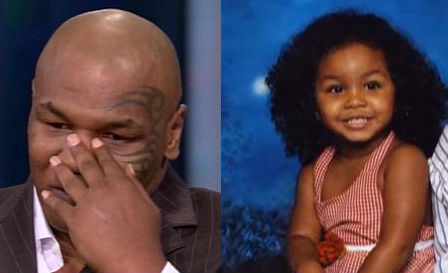 Former heavyweight champion Mike Tyson appeared on the Oprah show yesterday(October 12th) and spoke about his daughter Exodus' tragic death. According to police reports, Exodus died from being strangled by a treadmill cord but Mike says he doesn't really know what happened. Mike said that his first instinct was rage when he heard about his "little angel's" death.
"I started off to go about this in the wrong direction," he says. "But once I got there, I think from more of my experience in the rehab and all this, it just kicked in. Boom. It was all about being responsible. … She had to be buried. She had to be taken care of, and I have no animosity. I didn't have anger toward anybody," Mike said .
"And if there's somebody to blame for it, there will be a problem," Tyson said in reference to not wanting to know the details of his daughter's death.
See more exclusive pictures of Exodus Tyson
Tyson has six surviving children – eldest son D'Amato, daughter Mickey, 19, daughter Rayna, 13, and son Amir, 12, with his second ex-wife Monica Turner; Miguel with Xochitl; and nine-month-old Milan, his daughter with his new wife Kiki Spicer.
Kiki and Mike married a few days after Exodus' passing.
"I reached a stage where I'm 43, and I'm just tired," Tyson said about marrying Kiki. "I'm just tired of being alone and tired of not having that intimacy."