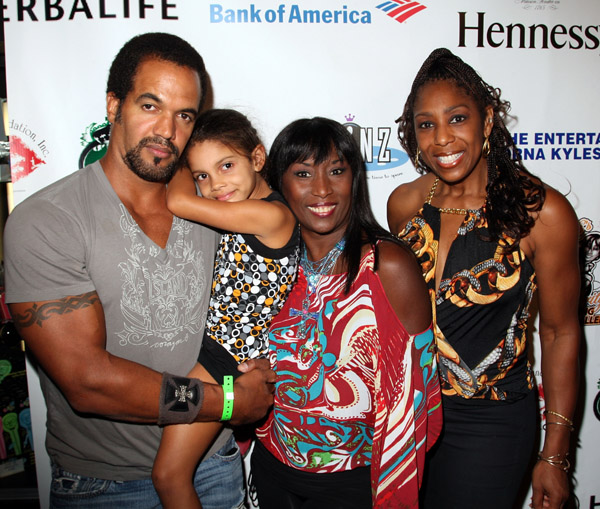 Actor Kristoff St John, best known for his role as Neil Winters on Soap Opera The Young and the Restless, took his daughter Lola,6, to KiKi Shepard's 6th Annual Sickle Cell awareness celebrity bowling challenge on September 18, 2009.
Sickle cell disease is an inherited blood disorder that affects red blood cells. People with sickle cell disease have red blood cells that contain mostly hemoglobin* S, an abnormal type of hemoglobin. Sometimes these red blood cells become sickle-shaped (crescent shaped) and have difficulty passing through small blood vessels. When sickle-shaped cells block small blood vessels, less blood can reach that part of the body. Tissue that does not receive a normal blood flow eventually becomes damaged.
(Source)
Kristoff is no stranger to life threatening illnesses. His ex-wife Allana is a Type 1 diabetic and because diabetes can be genetic, Kristoff worries that his daughter may develop diabetes in the future.
"Is it selfish to bring a child into the world knowing you could give them a life-altering disease?" Kristoff asked of himself at a recent interview with Real Health magazine. Then he answered his own question. "Yeah, kind of. But it wasn't just my decision. Now we have Lola on the planet, and she is a cool little chick. I am just praying and keeping my fingers crossed every day that she grows up healthy and strong and never has to know what it's like to have a condition like diabetes."
Click Here to read more about Kristoff's experience with Diabetes