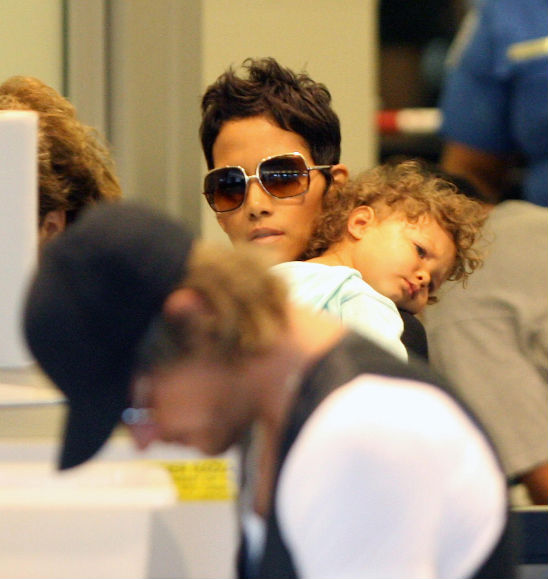 A tired-looking Nahla was spotted at the airport with her parents, actress Halle Berry and model Gabriel Aubry, yesterday.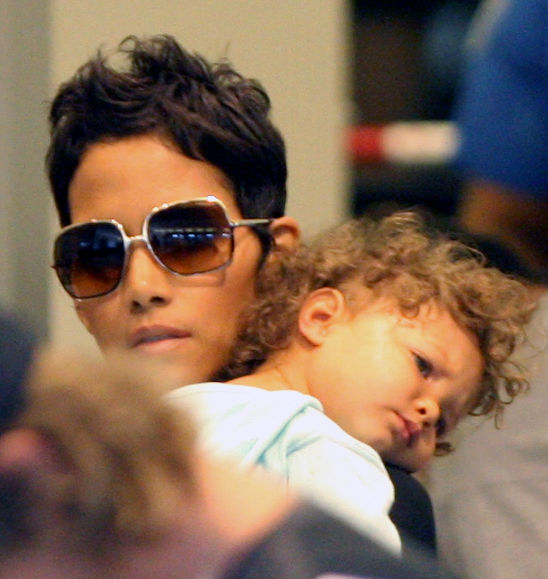 In other news, it looks like 18-month-old Nahla can speak in her father's native tongue: French. This past weekend, Nahla Aubry charmed workers at a beachside café by speaking in French, shouting: "Papa, regarde, un chien!" upon spotting a dog. Here is the story as told by a worker at the cafe:
"The little girl was pointing at the colourful drinks in the cooler and speaking French, like 'Papa!' and 'Regard!' I'm not sure what else she said, my French is poor, but she was talking a lot," said a cashier at Malibu Kitchen, located in a shopping mall across the street from the family's home.
As Aubry got Nahla a drink, the curly headed toddler heard a dog barking outside and ran to the door, the cashier added. "She was saying something about that too, and pointing. I asked her dad when he came back in to pay what she had said and he said, 'Chien means dog in French. She said dog.' "
BCK Says: Tu parles anglais et français, Nahla? Bien! Ok, so BCK's french is a little rusty. So how many of you have bilingual-speaking children?