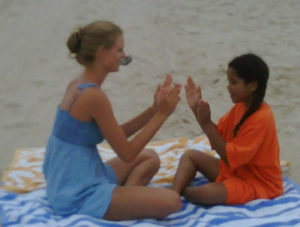 *Baby Kenzo, the newborn son of Kimora Lee Simmons, will soon make his public debut in a photo shoot spread! Kimora promises that the pictures " [look] great!" and that the family photo shoot was  "so much fun!" Kenzo is coming to a magazine stand near you and BCK will have the pictures, of course!
*Though she seemed rather timid and scared while on the red carpet recently, Ming Lee Simmons,9, was recently spotted on the beach with her dad's latest girlfriend. Ming ,who has been described as the calmer of the Simmons sisters, seemed rather content sitting on the beach.
*Singer Sisqo is rumored to have fathered a child with a lady that he met while on tour in Zurich in 1999. She was 14; he was 20. Sisqo is now being ordered to pay child support for a nine year-old boy that he may not have fathered
* Rapper Nas is rumored to have another baby on the way. The source of this rumor has not been validated and has no particular origins.
*Tommy 'Tiny' Lister spent an eventful day out with his wife and daughter on Sunday(August 2nd). The trio were seen lunching and shopping around West Hollywood.
*Katherine Jackson has officially been named the permanent guardian of all three of Michael Jackson's kids. Debbie Rowe, the mother of  Jackson's two older children, will retain visitation and legal parental rights. As part of the agreement, Katherine will get an undisclosed amount every month for the kids.
* It is being reported that a TV production company is pitching a reality show that will revolve around T.I.'s and Lil Wayne's daughters and their group, the OMG Girlz. Wow, Zonnique and Reginae may be getting their own reality show?!
*******
Welcome to the new  BCK Rundown! In this new segment, you will get your afternoon fix of the comings and goings (and even rumors!) of your favorite celebrity babies, kids, and their parents! Welcome to the BCK Rundown! Enjoy!