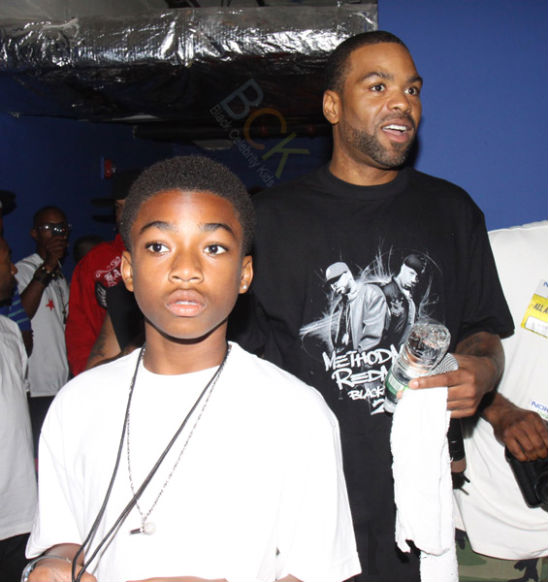 Method Man and his son attended the All Points West Music& Arts Festival Pre-Event Kick-Off Party on July 30, 2009 in New York City.
Meanwhile, the father of four-Method Man has two sons (born 1996) and (born around 2000) and two daughters (born 1997) and (born in 2003)- is speaking out on the Nas and Kelis Child support settlement case. During a recent visit to WKYS radio station, Method Man used Kelis and Nas' situation  as a steppingstone to vent out against women who don't "respect themselves".
"…I'm not speaking about Nas and Kelis, because that's disrespectful, but ladies let's be for real…, a kid doesn't need[$55,000] to survive. You trying to maintain your life style. That's [messed] up. I want to see the shoe on the other foot."
He added, "What the kids don't understand is that air they breathing, the lights, the cable,the mortgage, all that fall on Daddy's shoulders."
Method Man, who feels that the court system is "geared more towards the women", ended his rant by saying  that he feels that any child should be able to live on "$5,000/month".
Click Here to watch the video of Method Man speaking out on Nas and Kelis' child support case. Warning: Video has vulgar language as well as content.
BCK Says: What do you think readers? Does Method Man have a point?