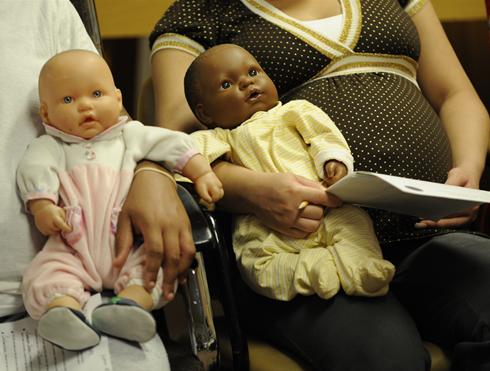 Recent statistics show that  teen pregnancy has increased in 26 states in the United States for women ages 15-19. Celebrity mom-to-be, model Jourdan Dunn, is one such woman who falls in line with this statistic. In  this POST, BCK readers reacted to 18-year-old Jourdan Dunn's pregnancy news. Here is how some readers reacted to the baby news:
Torre said: "Wow…. too bad she couldn't wait a while, spend a few years with her boyfriend in an adult-relationship… as opposed to a teenager-relationship, get her modeling career secured, grow-up some, and then marry and start a family. What's the rush young ladies?!?  I know it's their lives, and I wish them much success and happiness."
Ms Ashley said:   "Babies having babies…too young to be a mother???? Children are a gift from God!!!! I take it as such!!!! I have three and I'm going on 26. I agree I could have waited, however, if I had to do it all over again I would!!! I have a full-time job….going to school….hey it can be done. I'm a living witness!! You do have to grow up fast and yeah there are times I wish things were different but I have a great family….a great man (and I'm not married) but that helps!! I feel like its all about the person. I'm sure she'll make it…Anyways congrats Jourdan!!!!"
Facts/Opinions:
-Every year around 750,000 teenagers will get pregnant.
-Unmarried teenagers having children account for 24 percent of all unmarried expectant mothers.
-More than 2/3 of all teenagers who have a baby will not graduate from high school.
-Teen pregnancy costs the United States at least $9 billion annually.
-The federal data — largely from birth certificates — shows widespread statistically significant increases [ in birth rates for teens] for 2006, the most recent year for which data are available.
-The rate of AIDS diagnoses in young men (15-19 years old) is on the rise, nearly doubling from 1.3 cases per 100,000 population in 1997 to 2.5 cases per 100,000 population in 2006.
– In 2006, about 1 million teens and young adults had chlamydia, gonorrhea or syphilis. And the rates of syphilis, for men and women, are on the rise.
Sources for statistics: Source1, Source2, Source3
So, Do you feel that 18 is too young to get pregnant?