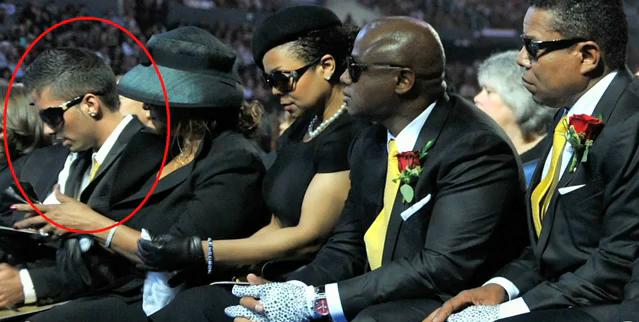 For weeks now, 25-year-old Norwegian performer, Omer Bhatti, has been rumored to be the "secret son" of Michael Jackson. The rumors began when pictures from Michal Jackson's memorial service showed  Omer Bhatti sitting front row in between members of the Jackson family. Though friends of Michael Jackson have denied that Omer is the son of Michael, Joe Jackson seems to be saying otherwise.
In a recent interview with NewsOne.com/TV One, Joe Jackson, the father of the late Michael Jackson, said the following:
"I knew that he had another son," Joe said. "Yes I did. He looks like a Jackson, he acts like a Jackson, he can dance like a Jackson."
Watch the video clip now!
Friends of the late singer say that Omer was LIKE a son:
Friends of Michael Jackson say that Omer was "like a son to Michael Jackson" but not the biological son of the King of Pop.
A friend close to Michael said the following to People.com, "Everyone knew [Bhatti] as 'Little Michael,' and Michael referred to him as 'Little Monkey,' " Harlow recalls. "They had a father-and-son type of connection, but I never thought he was his biological father."
"They met when Little Michael did a contest impersonating Michael Jackson in Europe in the mid-1990s, and Michael saw it and was blown away and got in contact with the family," he added.
One thing is for sure. Michael cherished Omer:
"Michael cherished him," Harlow, a friend of the late singer, said. "He was always like, 'Please be careful with Little Monkey. When you ride on the four wheelers, please be careful because Little Michael lives with me.' I'm a crazy driver. I actually wrecked a bunch of the four wheelers with Little Michael with me. He was having so much fun."
BCK Says: So could Joe Jackson also be meaning that "Omer Bhatti was like a son" to Michael?