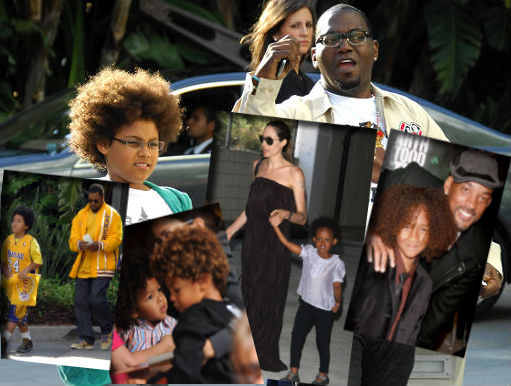 Though the concept of "Good Hair, Bad Hair" did not originate in the African-American community(Source), it would seem that it is being perpetuated by members of the African-American community.
For the most part, a lot of celeb kids have natural hair as opposed to relaxed hair. Although many readers on this site are advocates for natural hair care for children, still it seems that readers are not comfortable with kids wearing their natural hair(Source). Interestingly, celeb kids who do not get negative comments about their natural mane are thought to have "Good Hair." In this POST, for example, readers reacted to Jaden Smith's natural mane:
Juicee: "I swear people kill me, to be asking what color are Will and Jada, because of his hair, so two black people cannot make good hair children? or one parent has to be mixed, yeah right, well let me explain this to you , then you can analyze it and let the world know, my dad is black, nappy black hair, and my mom is black, nappy black hair, permed , hot combs, etc, my hair is Indian like, long silky and pretty, everyone said to my dad, get a blood test, that kid ain't yours, he did it, and it turned out i am 100 percent his black child!!!!! i took after his grand mom, who was Indian, and had long good hair, somehow her genes came down on me, and dig this, my dad is dark skin, and my mom is dark skin, i am light skinned, with hazel eyes, and neither one has hazel eyes, but great grandmom does, so explain that? damn idiots!!!"
Unknown: "What is this good hair nonsense? I have been hearing that all my life in the black community and I am sick of it! So if a persons hair is as you say "nappy" they don't have "good hair?" The closer your hair is to White/Native American makes your hair "good?" Just another thing to separate us all in the black community."
Sheshness: "I see what everyone means about us Africans and our hair hang ups. Every time a child on this website has hair that's doing it own thing we're gonna hear about it. It sad what slavery has done to us. What is the fear of having big beautiful (well-kept)African hair and letting it do its own thing.
Not that we should be judging ourselves by the standards of white folks, being that we've been forced to do so for our entire existence in this country (US), but they let their hair do its own thing. Why shouldn't we take back the right to allow ourselves to do the same?"
Facts/Opinions:
-This idea of "Good Hair/Bad Hair" seems to be so prevalent in our culture today, so much so that father of two, actor Chris Rock, has made a documentary film titled "Good Hair", which is about the African American hair culture:
-Studies show that Black women spend thousands of dollars a year to get their hair chemically straightened and thousands more on weaves. Straightened hair and weaves are thought to be "Good Hair".
-This is how Urban Dictionary defines Good Hair: "A popular term in the African-American community, used to describe an black person's hair that closely resembles the hair of a typical white person (i.e. soft, manageable, long, as opposed to "nappy" or "bad" hair). The closer your hair is to a white person's, the "better" your hair is.
– A writer named Reese blames the media partly for our conceptions about Good vs bad hair:  "The media, and the corporations and people in charge of the media do not help either. Have you ever seen a TV show for kids in which the lead person was black and had natural kinky hair (not loose curls as some characters have, e.g. Sister Sister's Tia and Tamera Mowry, although they are beautiful too). On Tyra's show "Good Hair Vs. Bad Hair," the little girl with the bubbles in her hair made me cry because she hated her hair and wanted to wear the blonde wig from Hannah Montana. That was all she saw on TV and so she felt that she herself was ugly. (Source)
ARE WE SENDING OUT THE WRONG MESSAGES ABOUT "GOOD HAIR/BAD HAIR" TO OUR CHILDREN OR IS SOCIETY(THE MEDIA ETC…) RESPONSIBLE?