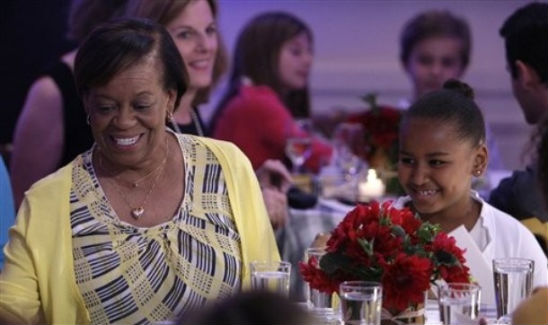 Marian Robinson, the mother of First Lady Michelle Obama, is beginning to feel left out now that her granddaughters Malia, 11, and Sasha, 8, are getting older.
"… they are at an age now where they'd rather read books or play games with themselves so grandma is beginning to feel left out. I spend a little time with them, but they're growing up now," Robinson said on Wednesday while at a summer reading series for some elementary school students in Washington .
All the same, Robinson is more than happy to care for her grandchildren.
"I'm able to take care of my two grandchildren when their mother's busy and she is pretty busy these days, and I am glad to be taking care of them," Robinson said. "So my life is wonderful."
As for her son-in-law, Marian said, "[Barack Obama] still is the hardest working person I know. I sometimes wonder how he does it, and Michelle, but then that's what it takes to get things done, is hard work."
Source for original print.