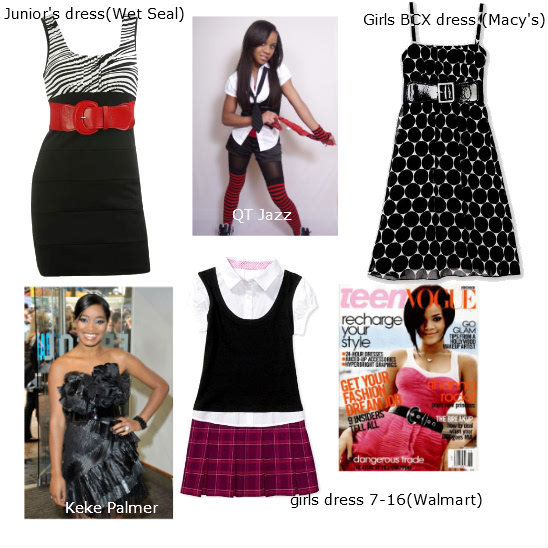 In this post about Jazz and this post about Keke Palmer, readers reacted to the way that these young teenagers dress. Here are some of the comments that were made:
Comments made about Jazz:

Zariah: "She looks older then me and I'm 28,and have a 9 yr old who LOOKS like a 9 yr old btw.she looks way too grown for 13 yrs old. These kids need to know it's not bad to look and act your age."
Mixtry Mama:"Folks on here are sooo conservative! She isn't even showing any skin. The outfits are cute. If she wasn't posing and just standing there with a big smile, like a 4-year old (which she's not) most people wouldn't even have a problem with it."
Comments  made about Keke Palmer:
Nikki:  "Her hair is nice, but I am sorry girls who are 15 years old should not be wearing so much make-up and should not be wearing outfits like this. I am sorry but it is unacceptable,cover up it doesn't matter if you are a celebrity or not little girls are looking at you. I would never let my daughter walk out of the house like this. To each their own but I find this outfit and the caked on make-up unacceptable for a teenage girl."
Caratime: " i think she is a very pretty girl, and i see nothing wrong with her outfit or make-up. this is a special occasion, so she is dressed accordingly. her make-up is fairly natural in hue, and – though i am personally not a fan of black dresses on children/young girls – she is covered up enough."
Facts/Opinions:
BCK  visited  a few online stores that are frequented by teenagers. Some of the stores were: Forever21, JcPenney, Macy's, Nordstrom, Delia's, Target, Walmart, to name a few. After browsing these online shops for a couple of hours, a few things were clear:
1. There aren't much  variety for girls 7-16 looking for clothing for dressy occasions.
2. Most teenagers tend to shop in the "Junior's" section as opposed to the "Girl's" section.
3. Junior's clothing seem to be a bit more on the sexy, mature side.
4. The "dress" from Walmart was the dressiest clothing in the online store.
5. Junior's clothing is more fashionable and trendy.
6. Girl's clothing is a bit on the childish side.
So readers, after reading a few of the comments, facts, and opinions, what are your thoughts on the way that these teenagers dress? Do you feel that in a way, they are victims of  fashion in 2009?
WHAT IS AGE APPROPRIATE CLOTHING FOR A TEEN?