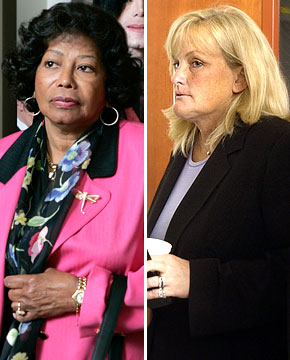 Katherine Jackson, the mother of the late Michael Jackson, was granted temporary guardianship of Michael Jackson's three children today in a Los Angeles Superior Court. UsMagazine reports that Katherine filed for a petition on Monday asking the court to appoint her as guardian of Prince, 12, and Paris, 11 and Prince Michael II, 7.
Though it has not yet been determined whether or not Katherine will become the children's permanent guardian, Jacksons' attorney Londell McMillan said there isn't "anybody who thinks that there is someone better" than Katherine Jackson to have custody.
"She is a very loving host of other grandchildren," McMillian said on Monday's Today show
A hearing is set for Aug. 3 to determine if  Katherine will become the permanent guardian of Michael's kids.
There are speculations that Debbie Rowe, the mother of Prince, 12, and Paris, 11, will fight Katherine for custody.