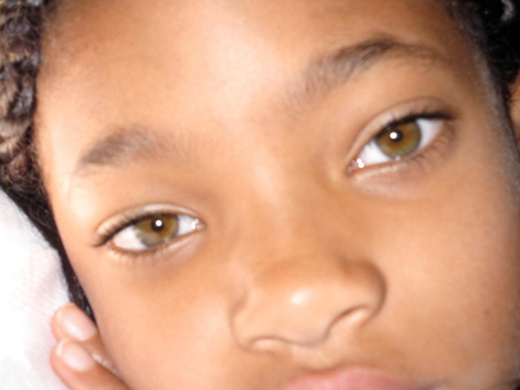 As a wife, mother, producer, actress, philanthropist and lead singer of a rock band, Jada Pinkett-Smith certainly has her hands full. Could she be adding photography to her lengthy resume?
Perhaps not but with the pint-size actress, anything is possible. Just recently, Redbook gave Jada Pinkett an opportunity to take personal snapshots of her famous family; in several of the snapshots, Jada tried to capture the "soul" within her daughter Willow's eyes and this is the reason why:
"I'm fascinated by human interaction. I was looking at this Leonardo da Vinci documentary the other day. He would try to capture the soul and moments of emotion as they move through the flesh or pass through the eyes. That's what inspired me to take the photos of Will's and the kids' eyes. Human spirit, things that aren't tangible, fascinate me, so I'm always researching mind, spirit, soul. I'll say, "Will, how did you feel in that moment, when that person said that to you?", said Jada.
When asked whether she sees herself in her children Jaden, 11, and Willow, 8, and Trey, Will's 16-year-old son from his first marriage, Jada responded with the following:
"Oh, yes. I see myself in Willow and Jaden — and in Trey, and he's not even my biological child! It's amazing because you can see the most beautiful parts of yourself in your children. That's what I love most. When I look at my kids, I go, I hope to God they don't get my ugly parts. Get your own ugly stuff, not mine!"
"Willow's a wild child like me. She's got this snake, Beauty. I've always loved snakes but was afraid of them. But Willow had wanted this one snake forever. She'd go into the pet store and pick it up and wrap it around her. I'd never touched a snake before, and I put out my hand, and Beauty [mimics the snake slithering up her arm]. I've been in love with her ever since. I said to Willow, "You did Mommy a big favor. You helped me overcome a fear."