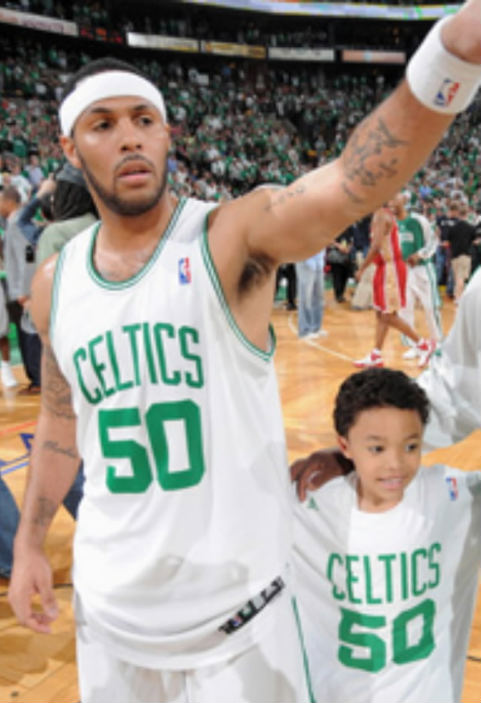 Boston Celtics player Eddie House is a father before all else. The NBA player has three kids under his belt-a set of  two-year-old twins and an eight-year-old son named Jaelen. This fall, Jaelen and his dad will be starring on a show on the Cartoon Network. The show, titled My Dad Is A Pro, is a short-form series which will give viewers an inside look into Eddie's life, told through the perspective of his son Jaelen.
Babble sat down recently to talk with the dad of three about his new show, among other topics. Read excerpts from the interview now.
Eddie on being filmed for show My Dad is a Pro:  It's kind of weird, but at the same time it's a good way to get a look at how we live day-to-day life like everybody else. I think it's a good concept; it'll show that [we live] is the same type of life, just with a few extra perks.
On raising his kids:  We try to raise them the way I was raised, try to raise them right. That's it — try to instill all the positive things that you can. Everything else will take care of itself.
On how he finds time with the family:  You have to juggle responsibilities, take care of your responsibility at work and then come home and take care of your home responsibilities. You just figure a way out.
On how being so family-centered affects him as a player:  It gives you motivation. When you look and see your kids in the stands or when you leave and they say, "Have a good game!," it's extra motivation to go out and perform to show the best of your capabilities.
On whether he likes his kids at his games:  Yeah — just looking up at them and seeing them watching me, seeing them taking in everything that's going on.
On whether he wants Jaelen to follow in his footsteps:  It doesn't matter. Whatever he wants to do, as long as he likes what he's doing, I'll support him. Whatever it is.