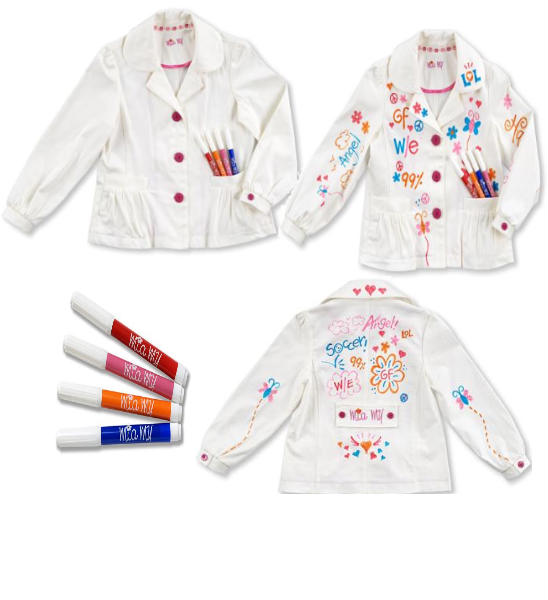 our mission is to positively influence
the lives of girls by creating stylish products
that reinforce positive messages:
education, creativity, empowerment, friendship, cooperation, and self-confidence~ MiaMy.com
 Mia MY jacket gives a whole new meaning to the expression "wearing your heart on your sleeve." It's the perfect jacket for your tween or for any young girl for that matter and it's sure to inspire creativity!
What: MIA MY Jacket for girls ages 6 to 12

Description:Mia MY jacket is a chic modern blazer made out of 97% cotton with just enough spandex for easy care and comfort. Every Mia MY jacket comes with scented write-on/wash-off marker set, so that your child can create her own one-of-a-kind designs. She can even have friends and family add fun messages or designs to the jacket. The best part of all?  It's machine washable and dryable so your child can always throw the jacket in the laundry and then start all over again!
MIA MY jackets come in sizes 4, 5, 6, 7, 8, 10, 12, 14.
Price:$49.99
Product Highlight(s):Unique; Inspires creativity
Website: MiaMy.com