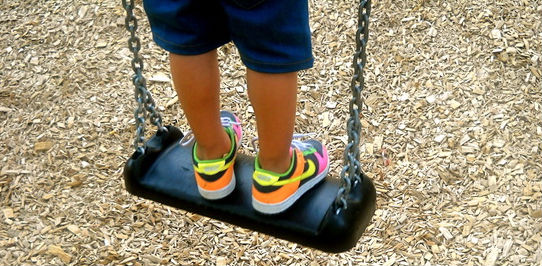 In this POST, BCK readers saw a picture of singer Solange Knowles and her son Julez,4.  Readers were drawn to Julez' sneakers which appeared to be predominantly "pink" in color. In the picture above, readers can now see that the shoe is actually orange, green, yellow, and brown with a hint of pink. Here is how some readers reacted to the sneaker:
ce says: Pink is not a color for males a real men do not wear pink I do not care about anyone making a comment about my statement
Tanya says: Pink is just a color. just like green, yellow, and red. who says that a boy cant wear pink? so girls shouldn't be allowed to wear blue? grow up people!!!!
Facts/Opinions:
From the 1920's until the 1940s, pink was considered appropriate for boys because being related to red it was the more masculine and decided color, while blue was considered appropriate for girls because it was the more delicate and dainty color, or related to the Virgin Mary(wikipedia)
Though most men won't wear a predominantly pink outfit, many wear pink button down shirts with suits. Further, since the 1980s, when day-glo fashions ruled the day, and shows like Miami Vice influenced fashion, pink became a much more acceptable color for men and did not necessarily denote a lack of masculinity.(Source)
After WWI, blue was used extensively for men's uniforms. Therefore, blue became associated as more of a masculine color. From the 1940's onward, pink was pushed as a woman's color. "Think Pink" was the marketing slogan to convince women to embrace their femininity. (Source)
BCK Says: It seems that the saying "Pink is for girls" and "Blue is for Boys" has changed over the years. Do you feel that this saying should still hold true in 2009? Is pink for girls and blue for boys?