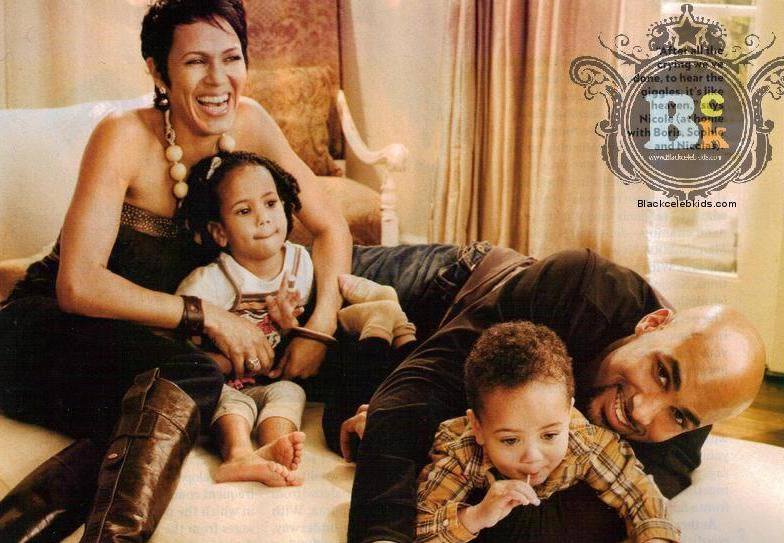 In movie "Imagine That", actress Nicole Ari Parker-Kodjoe plays the role of Trish, the ex-wife to Evan(Eddie Murphy's character) and the mother to seven-year-old Olivia(Yara Shahidi). In real life, Nicole is a mom to Nicholas, 2, and Sophie, 4, who was born with Spina Bifida, a birth defect involving an incomplete spinal cord. Read below as Nicole tells us a bit more about her not so "imaginary" life with her kids and her husband Boris Kodjoe.
On her kids' imaginary friends:
My daughter has a vivid imagination and so does my son. He has a Linus attachment to his blanket right now. It's quite adorable to watch. I get right down with them and play. This time goes by so fast. I just enjoy it while I have it. I just found out my son will be 6-foot-6. They did the calculation at the doctor's office, so I will be enjoying this 2-½-year-old I have with me now.
On balancing work life with home life:  Boris and I really try to balance it out together. The priorities are the children and each other. We went into this marriage knowing the levels of our ambition. You shouldn't marry unless the both of you are on the same page on a lot of things. Life is going to deal you blows and you have to be together. Your values and priorities have to be on the same page, otherwise it won't work. Both Boris and I wanted to be together and we wanted to be husband and wife to each other and we wanted to be parents. We knew what that meant, and it meant not working at the same time, not moving around a lot while our kids are young and making sacrifices. We're learning as we go, but at the same time, we're doing it together. So we don't panic.
On how she deals with Sophie's birth defect:  Well, once you get into the practical rhythm of taking care of your child, you realize what a blessing it is in a way, because you see how capable you are of meeting great challenges. But I think the hardest part is to not worry about the future, and to just believe that she'll be okay when she's not under the care and love of mommy and daddy. That's really the hardest part, to not fill the house with worry and fear.
On how things are going with charity Sophie's voice:  My husband and I started it not to reinvent the wheel so much but to make sure that we're keeping our finger on the pulse of financing surgical studies that can improve the quality of life of children who already have Spina Bifida, and also to educate more people about prevention, and to make sure research efforts towards prevention get funded. So, we just picked up the ball on a couple of things that we thought needed attention.
On where she gets her source of strength:  I just reach deep down inside and try to find that place of peace. Nervous feelings, worry feelings and upset feelings are just feelings, not facts, and I try to remind myself of that. I constantly reach to that place of peace that's inside of me and inside of everyone, and try to live and make decisions from that place. And I also ask for guidance, and I'm usually gently, intuitively nudged in the right direction, thank God.
On President Barack Obama's win and what it means to her:  My heart is just open for my children's future because of what he's doing for the world. I'm overwhelmed with joy and ecstasy.