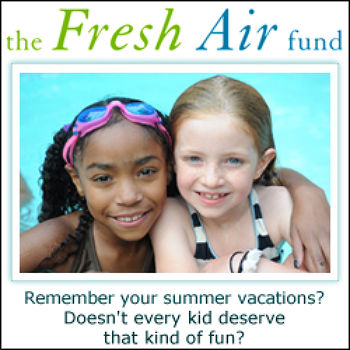 What:The Fresh Air Fund
Who: You can open your home for one or two weeks this summer to an inner city child in New York so that he or she can experience the joys of the "fresh air" in the suburbs.
Founded: Founded in 1877
Website: FreshAir.Org
Since 1877, The Fresh Air Fund, a not-for-profit agency, has provided free summer experiences in the country to more than 1.7 million New York City children from disadvantaged communities. Each year, thousands of children visit volunteer host families in 13 states and Canada through the Friendly Town Program or attend one of five Fresh Air Fund camps.Fresh Air Fund serves about 8,000 children, either in individual, voluntary host families or one of our five camps.FAF
Celebrities such as Tiki Barber, Mariah Carey and Michael Strahan have all been participants of the Fresh Air Fund program.