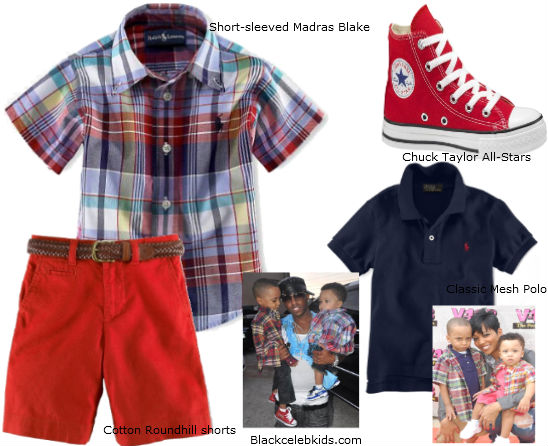 Romelo and Lil' Rocko's style can be described in two words: Ralph Lauren. Singer Monica is certainly a stylish mom  so  naturally, so are her boys!
Short-Sleeved Madras Blake
Price: $35.00
Sale Price: $29.99
Essential cotton broadcloth button-down shirt in preppy madras, designed with short sleeves for a polished warm-weather look.
Classic Mesh Polo
Price: $29.50
Essential short-sleeved polo shirt in cotton mesh.
Cotton Roundhill Short
Price: $50.00
The essential flat-front Roundhill short in a lightweight woven cotton, perfect for warmer weather.
Chuck Taylor All Star sneakers
Price:$25.00
To see pictures of Romelo and Rocko in their preppy clothes , click Here and Here.