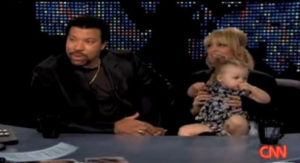 Nicole and her dad Lionel Richie appeared on CNN's Larry King Live yesterday. While on the show, Nicole cleared up rumors that she is pregnant with a baby boy. In addition, she made it known that she is in no rush to get married.
"Of course when I was a little girl, you dream about getting married, and that is definitely a dream of mine one day. Right now, [Joel and I are] really, really focused on our family, we're focused on our foundation, and as far as feeling that need of commitment, we both really have that in each other," she said.
See more pictures of the trio arriving at the Larry King Live show.
Click Here for more of the interview.