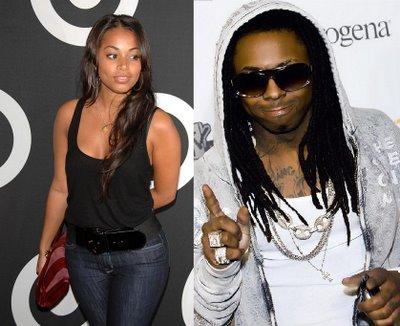 Actress Lauren London, who is rumored to be pregnant with rapper Lil' Wayne's baby, is allegedly not too happy about the impending birth. Just a couple of days ago, Lauren allegedly made this confirmation through her publicist:
"At first we weren't happy about the pregnancy but now we are fine. Wayne and I will happily raise this baby together." 

Now 24hourhiphop is reporting that Lauren isn't at all happy about her pregnancy. This is what 24hourhiphop had to say:
In fact Lauren still is not happy about this pregnancy but Wayne pressured her into keeping it, apparently even threatening to go public with the news that she was pregnant…if Lauren didn't keep it. Obviously fearing what reputation this would put on her and her career, she opted to do the right thing and keep the baby. But she is not happy with it at all!

"Lauren is letting everyone close know this is not what she planned. She's mainly worried what effect this will have on her career. She doesn't want to be stigmatized as just Lil Wayne's baby mama." A cousin of Lauren's said to the press.
Related Lauren London Pregnancy news:
More confirmation that Lauren wants to raise this baby with Lil' Wayne [Bossip]
More confirmation that Lauren London is indeed pregnant by Lil' Wayne [YBF]
Freddy O/BCK reported Lauren's pregnancy back in February[BCK]