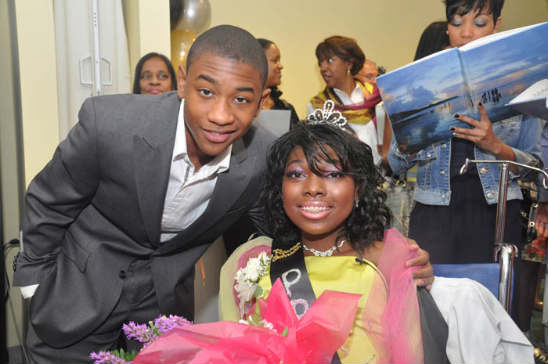 Teen actor Justin Martin,15, along with some well-known figures like singer Monica and philanthropist Frank Ski, attended a "charitable prom" for a young girl named Raven Johnson last week. Raven Johnson is a teenager who has been diagnosed as having Rheumatoid Arthritis and Macrophage Activation Syndrome(MAS).
This is what photographer FreddyO had to say about Raven:
Raven Johnson is 18 and attends Rockdale High School. She has Juvenile Rheumatoid Arthritis and MAS (Machrophage Activation Syndrome). She has been hospitalized 9 times and last year she experienced cardiac arrest twice. Her life was saved here at Children's. Again this year she came in with complications from her illness and was placed on life support for two weeks. She missed her prom which is why the hospital and her school put together this prom for her.
Macrophage-activation syndrome (MAS) is a severe, potentially life-threatening, complication of several chronic rheumatic diseases of childhood. It occurs most commonly with systemic-onset juvenile idiopathic arthritis (SoJIA), which is also known as Still's disease.