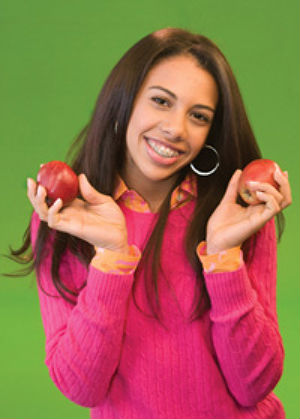 Wyntergrace Williams, daughter of television show host Montel Williams, has teamed up with the Physicians Committee for Responsible Medicine (PCRM) to campaign for more healthful school lunches.  The 14-year-old student, who is an eighth grader at Central Middle School in Greenwich, Conn, is asking people to sign a petition to amend the Child Nutrition Act so that public schools can include vegetarian options on their menus.  Wynter has even urged First Daughters Malia and Sasha to join her in her campaign.
 In a letter written to Malia and Sasha, Wynter writes: "My name is Wyntergrace and I'm a big fan of yours. It seems that we have a few things in common. We all love dogs, live on the East Coast, have fantastic moms and maternal grand moms and both of our dads are quite famous. In our household we also eat healthy foods and I am working on a school project to get healthier foods in schools across the country. I would love for you to join my campaign and sign my petition and encourage other students and families to follow our own and respective families' lead."
"The problem is that many schools do not offer enough healthful choices. This is especially true when it comes to vegetarian meals. A lot of us ask for vegetarian meals out of compassion for animals, like I do, or because of concerns about health or the environment, but all students would benefit from having a variety of healthy options, and other plant-based meals available." (Source)
 
 
Wyntergrace  recently shot a PSA for healthful school lunches. Watch the PSA below.
Click Here to sign the petition.