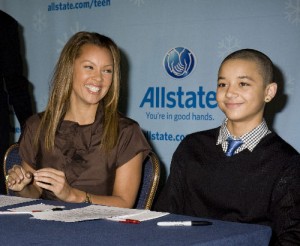 Actress/ Singer Vanessa Williams is a proud mother of four children ages 9, 16, 19 and 21. In an interview with BlackVoices, Vanessa shares her of knowledge on motherhood, career and how to work in "blended families."
What's the best advice your mother ever gave you?
The best would be you're going to have to do better than everyone else just to be considered equal. It's something that I've always taken to heart.
What advice will you give your daughters on motherhood?

Well, I definitely think you learn by example so I think by watching my mother and myself … watching by example really is key. And when you get overwhelmed to ask for help. We live in an age that we don't have our extended family at our fingertips like our forefathers did. People [used to live] within the same block or the same town so that you could call on an aunt, or a grandmother or sibling to watch the kids while mom went to work. And nowadays a lot of people are so scattered around the world, they don't have that extended family, so don't be afraid to ask for help. It's hard to do it all.
What's your fondest mother's day memory?

I love when the kids make things and prepare meals. I used to love when they were young and they'd make the menu and prepare the brunch for me and wake me up with some handicraft note. And one time my son learned 'You are my Sunshine' and he waited until Mother's Day morning [to sing it]. So the things that are not bought are my favorites.
What is the most difficult thing facing mothers today?

Well, there's the fallacy or the illusion that you can do it all and balance it all. I don't believe there is consistent balance all the time. It's always a dance. Sometimes you're crazy, sometimes you're free. Some days you can do it by yourself. I personally love my freedom and love my house and love taking care of my kids but when I'm shooting and don't have that opportunity, I definitely delegate. And I think a lot of people assume — you watch a Martha Stewart and see an example of the perfect mother fix treats or after school snacks and staying green and being healthy and doing the right thing and looking fabulous on top of it. And it's tough and sometimes it's a burden. So you have to take each day as it comes and give yourself a break. Don't beat yourself up if your house isn't clean and spotless everyday. Because you'll make yourself crazy.
What are three things every mother must have for successful work/life balance?

Well, I would say don't be afraid to ask. My oldest is 21 years old and I remember going into auditions. I was 24 at the time and I remember going up for parts and I would bring her – I didn't have a nanny with my first child – and the other actresses would watch her when I went in to read. And people are there to help you. So there's ways to always find support. You don't always have to have a nanny who has a salary. There are high school kids looking for jobs. So don't be afraid to ask.
You have a "blended" family — that is, step parents or children. What is some advice you would give parents going into this situation?

I mean, the rules in my house stay consistent with whomever is living in my house. In those s
ituations, where the kids are together on vacation as a whole, there's one set of rules for everybody. Nobody gets preferential treatment. If everyone has to clear the table, everyone has to clear the table. If there's no hitting, there's no hitting. It doesn't change if your mother has different rules. In my house, everybody has the same rules. So be consistent.
What are some of the biggest issues facing our nation's children?

The cost of education I think Obama is addressing. I know he wants to make it affordable so it's not just for the elite that can afford it, or because that should be education should be available for everyone in the country. Probably what I get affected by, because of the economy, is that the first thing that gets cut is music and art programs and they are the reason that I am who I am. My parents were both music teachers. It's such an integral part of growing up and being a well rounded child. Even if you're not talented, even if you have no musical ability the fact that you learn and appreciate the arts makes you a better person.
How excited were your kids that you were in the Hannah Montana movie?

Yes. Well that's basically why I did it when they called. At that point, we'd already been to the concert and the premiere of the 3D movie and seen her sweet 16 birthday party. So it was an easy project to sign onto and [my 9-year-old daughter] Sasha was very excited.