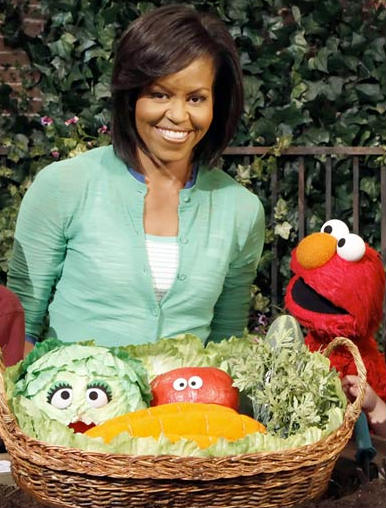 On May 5th, First Lady Michelle Obama visited the children's show Sesame Street to record a public service announcement(PSA) on the importance of good nutrition. Michelle says that the taping was the highlight of her life as FLOTUS.
"I think it's probably the best thing I've done so far in the White House. But we were there talking about nutrition and healthy eating. and it's just been a thrill."
Meanwhile Grandma Robinson, Michelle Obama's mom, has settled in the White House quite nicely. Mrs. Robinson,71, is so busy these days that the Obamas had to hire a babysitter one evening to care for first daughters Malia and Sasha because first grandmother had plans for the night.
"She has a very full social life, so much so that sometimes we have to plan our schedule around her schedule," Mrs. Obama said jokingly last week during a lunch she hosted for Congressional spouses.
Although she keeps busy, Mrs. Robinson still spends most of her time tending to Malia, 10, and Sasha, 7. She takes them to and from school most days, she helps them with their homework, and provides that extra-needed help that the president and the first lady need.