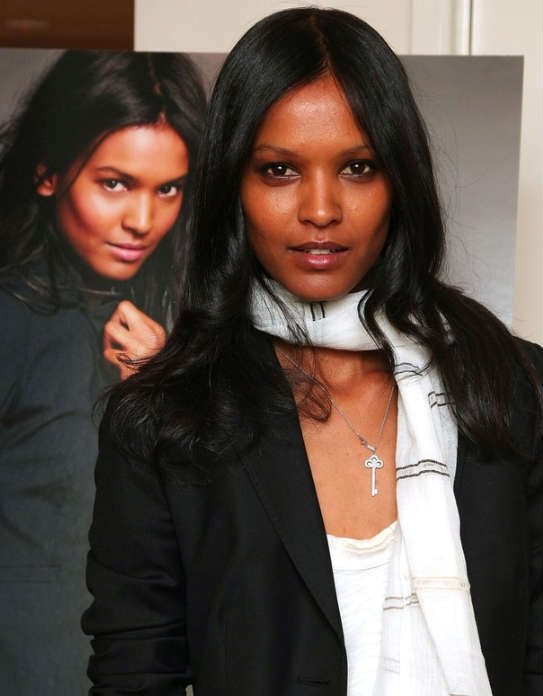 Supermodel Liya Kebede is a mom on a mission. The mom of two(Liya has a daughter Raee,3, and son Suhul,8) has made it her mission to incorporate philanthropy into every aspect of her life. In an interview with NBC, Liya talks about her mission to help mothers in third world countries, her role as Goodwill Ambassador and so much more.
When asked why she is so motivated to help mothers and children in need, Liya replied, "I am a mom. I have two wonderful children…"
Q:Can you tell us about the Liya Kebede Foundation and its purpose?
Kebede: Right now, we have about one woman every minute of the day dying from childbirth and pregnancy complications in the world, and this is sort of very unheard of in the West. This happens a lot in the developing world. The reason is because women don't really have access to very basic medical care, so most of these women are dying from very preventable or treatable conditions — simple things like an infection during childbirth will just kill the mother.
What we do in the foundation is we try to raise awareness of this issue because a lot of people don't really realize that the number one killer of women in the world, in the developing world, is childbirth. You know, childbirth is something that is supposed to be this really beautiful and joyous moment in your life. For a lot women in the developing world, instead being this joyous moment that we experience here, it's filled with pain and it's filled with fear that they might actually lose their lives giving birth. So, that is why we created this foundation. We really want to raise awareness and help programs that support these causes.
Q: What made you become interested in the topic of children's health and mortality rates among mothers and children?
Kebede: I am a mom I have two wonderful children and I am also from Ethiopia. Growing up there, it was really very normal to see and to hear about women dying in childbirth. It was very, very common. At the time, I actually thought it was a normal thing. Later, I came here and I was lucky enough to have my children in New York and I had the best medical care. The gap is ridiculous. Here, you're not only in the best care, you get to have sonograms and you get to see if the baby is a boy or a girl. In a developing country, women deliver in a hut by themselves, a lot of times with nobody around. They might not even have clean water by them so any little thing might jeopardize their life or the baby's life. This is something that I thought any mom, any woman who would hear this story, would feel the importance of it. So, that's kind of how I got involved.
Q: Please describe your role as the Goodwill Ambassador for Maternal, Newborn, and Child Heath.
Kebede: I've been with the WHO since 2005. I've been their Goodwill Ambassador and we've been working a lot on raising awareness of this issue so that more and more people can actually hear about it and put pressure on governments to put a lot of budget earmarks on maternal health, because one of the other problems that we have is this one area is completely underfunded. One of the other problems that we have is this one area is completely underfunded and mothers dying is not something that can be put on the backburner. It's something that's completely important not just for her life but her children's life, for her family's life, for the community, for the whole country.
With the WHO we try to get international communities — the West, for instance — to really allocate more funding specifically for maternal health and also the local governments to allocate more funding for maternal health. That's the kind of work that we want to do and help promote programs that are already existing that help women and children around the world.