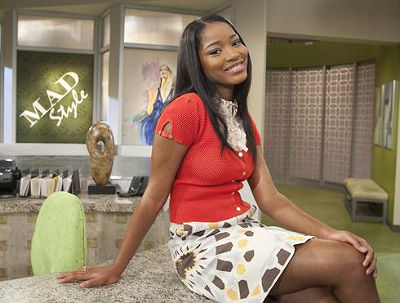 When it comes to Keke Palmer's acting abilities, Nickelodeon says:
"KeKe is totally natural. She's bubbly, she's self-confident, but she's not conceited or self-brandishing," says Marjorie Cohn, Nickelodeon's vice president of development and original programming. "She's a real kid and a really nice person, and I think that just comes across on camera."
She may be a "real kid" but Keke can't go anywhere without children running up to her.
"I can't go anywhere with kids around," the 15-year-old says.
She adds, "It's so sweet and it's so cool. All the (movies) I've done before, (kids) may have seen, but it was something that they couldn't comprehend because it wasn't aimed for them."
So who were those movies aimed towards? Her peer group, of course! And as the star of Nickelodeon TV series, True Jackson, VP,Keke is able to reach out to her peer group.
"They're getting to know me on another side," says the Illinois native of her fan base.
Starting September, fans will get to see more of Keke as her show True Jackson, VP (Saturdays, 8:30 p.m. ET/PT) will return for a second season in September.
"I'm so excited. I can't believe it!" Keke says, the words strung together in her rush to get them out. "Everybody always says, 'Oh, we're thinking a second season,' but when you hear it loud and clear, and it's like for real, for real, it gives you a whole other feeling. I remember when the show first came on. My friends were like, 'So it's like a real, real series?' "
In the coming months, Keke will produce and star in a film adaptation of Fran Ross' book Oreo, and she'll star in Shrink with Kevin Spacey.
Source for original print.