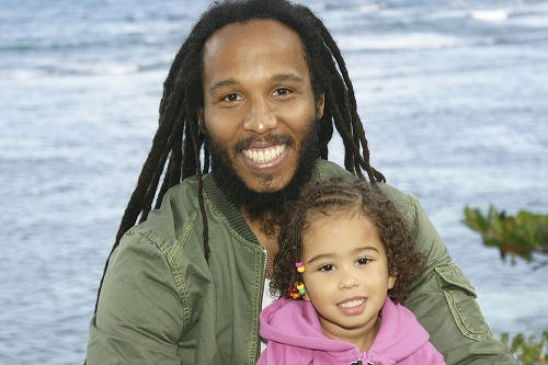 Musician Ziggy Marley just released his first children's album entitled Family Time on May 5th.  The son of the late legendary singer, Bob Marley, recently sat down with CookieMagazine to talk about family life with his children: Daniel Marley, 19; Justice Marley, 17; Zuri Marley, 13; Judah Victoria Marley, 3; and Gideon Robert Nesta Marley, 2.
Q: What about your children makes you laugh?
A: Even though they're children, they have their identities. They smile on the inside, and they smile on the outside. They have good hearts and are loving. That makes me laugh inside and out.
Q: What is your favorite family ritual?
A: When it's warm out, we find scrap pieces of wood and build things. It's kind of like an adventure outside. We have fun with whatever. That's been a ritual that we all enjoy.
Q: What was your most frazzled dad moment?
A: My wife is the frazzled one; I'm not the frazzled one. When the kids are whining, I'm a little bit, "You're not going to get it if you're whining." That's a point when I'm a little bit frazzled, but it only lasts for a second.
Q: What parenting issue do you and your partner disagree most about?
A: I'm more of the loose one, but I'm kind of picky about food. I don't eat meat, but sometimes the kids want to eat meat. I'm very particular in terms of food. I'm kind of cool—I let them eat some meat. It's all good.
Q: What is your parenting role: good cop or bad cop?
A: I'm the good cop and the bad cop. Sometimes she's the good and sometimes the bad. We do it that way. I'm versatile.
Q: What do you wake up in the middle of the night thinking about? A: Usually the kids wake me up in the middle of the night, and I think, What does my little daughter want now? She wants water, sometimes a book, sometimes a different song on the CD. She's the one who is waking me up, so she's what I think about.
Q: What do you wish you had done before you had children? A: Children are not a burden. "Oh, I wish I had done this that I can't do now." I don't think like that. Children are wonderful, and they add to my whole life. I wish I could keep having them. I don't think about what I could've done or think backwards or think about what-ifs. I move ahead, and there isn't anything I wish I [had or] hadn't done.
Q: What is a typical Saturday morning in your house like?
A: Typically, Saturday mornings, the kids have martial arts. Usually my wife takes them, and sometimes I take them. I'm lazy on Saturday mornings. Usually, I make breakfast. Sometimes we switch off. I make cornmeal porridge, a Jamaican staple. The kids love that. It's very spontaneous. If I feel like going to the supermarket, to the park or wherever, we just roll with them. Just roll. TV isn't a big deal. We don't let them watch a lot of TV. We're usually doing something else.
Q: What was your dad most right about? A: "Listen to your daddy." I instill that in my children. "I'm the guide in the journey you're on." That's the basic advice my father gave me: "Listen to your father." I learned that the hard way. It's very important that we instill some respect for the parents. In America especially, the kids are unruly, screaming at mommy and daddy, running the show. Let kids know we guide them. When kids question me, "Why?" [I tell them that] it's the rule because I say so.