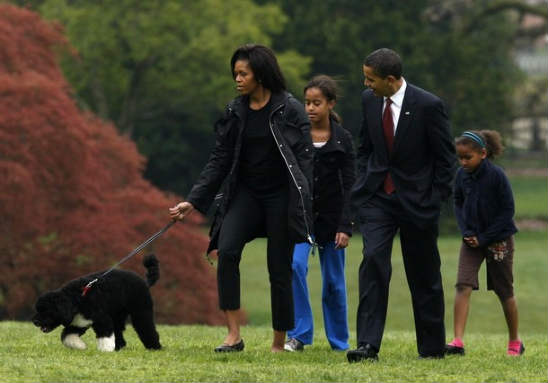 It appears that first daughters Malia,10, and Sasha,7, are slacking on their doggie duties so first Lady Michelle has had to take over their responsibilities of walking Bo, the Portuguese water dog.
"Even though the kids are supposed to do a lot of the work, I'm still up at 5:15 a.m. taking my dog out. So for everyone who has a child asking for a puppy – you have to want the dog," Mrs. Obama said on Thursday  to a room of congressional wives. "As I do," she added. "I love my Bo."
"I got up at 5:15 a.m. in the morning to walk my puppy," First Lady Michelle Obama added.
For Michelle Obama, not much has changed since moving to the White House. She is still a soccer mom and the girls are still their happy, healthy selves.
"The girls are happy and healthy. They love their school. They're making friends. They're getting good grades. They settled in on their typical week. I feel like I've never left Chicago. Soccer on Saturday – yes, I'm on a soccer field all day – just like many of you. Slumber parties – we had about seven girls over, screaming and yelling. And we're shuttling kids back and forth to play dates, just like usual, although now my mom does a little more of the shuttling than I do. I'm glad to have her here."