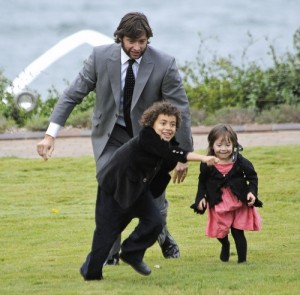 Actor Hugh Jackman says that adoption laws in his native land of Australia are too restrictive .
"The adoption laws in Australia are too restrictive," Jackman told The Sun newspaper in Britain last week.
Years ago, Jackman and his wife Deborra-Lee Furness had wanted to adopt a child from Africa or Asia but found the task impossible with Australia's laws on overseas adoptions.
"Of course, checks need to be made. But they had a very negative approach.
"It was like they were trying to discourage you.
In the end, the Jackmans ended up adopting Oscar, eight, and Ava, three, from the United States.
Jackman says that he sympathizes with pop star Madonna, who recently failed to adopt a second child from Malawi.
"There are 130 million orphans in the world – who is looking after them? If you are a citizen of the world, on some level they are all our responsibility.
"And if you have got parents who want to adopt and there are children who need a home, it seems like a no-brainer.
To naysayers who believe that Madonna is trying to adopt to get attention from the media, Hugh says, "I challenge anyone who thinks you adopt a kid for a publicity stunt."
"Any parent knows that would have to be the most intensive publicity stunt in the world. I am sure she is coming from a good place."