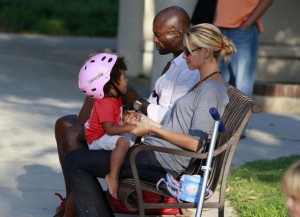 Supermodel Heidi Klum admits that she wasn't quite ready to let the world know that she is pregnant with her fourth child. Unfortunately for Heidi, her husband Seal couldn't keep his lips sealed-no pun intended.
The supermodel reveals to Extra, "It kind of came out faster than I wanted it to. My husband kind of surprised me and everybody at one of his concerts. He was just on tour so he kind of told everybody." She continues, "He's allowed to, obviously. We're very excited."
So far, the pregnancy is moving along quite well for the supermom. She says, "I do feel full of energy. I do go to bed very early. Nothing to do with the pregnancy now. It has to do with having three small children at home."
Heidi and Seal will welcome their fourth and perhaps last child this fall.
"That's pretty much it. I'm very happy with four." The "Project Runway" host adds, "With four I think we're complete," Heidi insists.