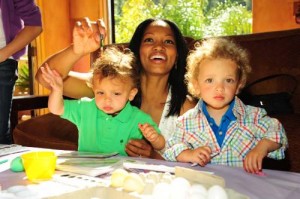 Actress Garcelle Beauvais says that her twins Jax and Jaid are very different.
"They are completely different. We actually came to Malibu to the beach yesterday and Jaid completely jumped in [and] thought he could swim and Jax was really timid and was tiptoeing around the seaweed. Just so different."
When it comes to saying "No" to their mom, however,  the twins are very much the same. Garcelle says that her 18-month old twins have discovered the power of the word, "No".
"'Are you ready for bed?' 'No.' 'Do you want to eat?' 'No,'" says Garcelle. "So I'm tricking them and saying do you want ice-cream and they go, 'No,' and I'm like 'Oh you really want it…'"
In all, Garcelle has a son, Oliver (born 1991) from her previous marriage to Daniel Saunders. She and her husband Mike Nilon had twin sons Jax Joseph and Jaid Thomas on October 18, 2007.