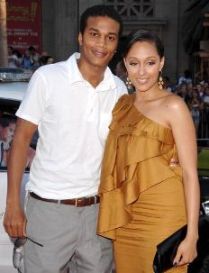 CW  The Game actress, Tia Mowry,30, is all grown up now. You may remember Tia from the sitcom series Sister, Sister , which she played alongside her twin sister Tamera Mowry.
Now that Tia is a married woman(Mowry wed actor Cory Hardict on April 20th,2008), she is ready to have kids. Tia's goal is to have at least two kids in five or ten years.
"…if you ask me where do I want to see myself in five or ten years, I would really love to have a family of two kids right then and really have a flourishing and thriving production company that's geared toward to making and creating family movies, television, reality, you name it. If Tyler Perry can do, I can do it too."
Tia, however, adds that if she were to get pregnant right now, she would be so happy.
"Right now, I really want to have kids. I'm so ready! I love children and not only that, I have my mom and my dad who are like, 'Come on, I want to be alive to see some grandkids.' I think maybe two or three years from now."
Click Here to read Tia's entire interview with BlackVoices.