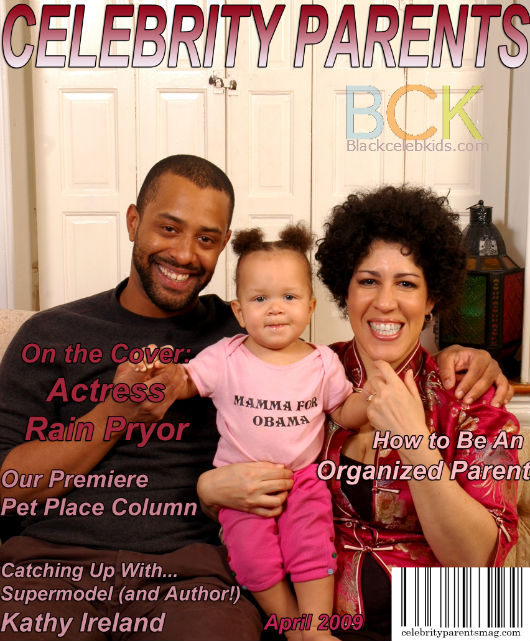 Actress,writer, comedienne, playwritght, singer, activist, Rain Pryor, her fiance Yale, and her one-year-old- daughter Lotus are featured on the April 2009 cover of Celebrity Parents Magazine.  In the article feature, the actress talks about her life as a mother, her father, the late comedian Richard Pryor, and so much more! Check out bits of the interview below.
On her daughter Lotus Marie:

She's yummy. Brains and beauty, that's my girl! Lotus was born on April Fool's Day, which is so ironic! She definitely has her grandpa's genes….She's funny; she has this weird sense of humor. T.V. is her crack. She only watches pre-school shows. I want her to learn. I want her to say, "Look Mommy, an octagon!" I'm sure she has other words planned for me, though!

On her first year of Parenting:

It's been good and also really hard. No one wants to talk about it. There's a big denial. The truth is, you love it and some days you don't. No one told me this, how having a child completely transforms your life.
I'm exhausted, sleep-wise. When I got the first six straight hours of sleep, I literally cried. It's tremendous endurance. Then I look at her and think how lucky I am. I want her to marry a nice doctor!
On being comfortable in her own skin and loving her "peachy" baby:
I'm comfortable with who I am. I was never the Hollywood skinny [person]. I was the 219 lb. pregnant girl. I will never have the same pre-baby body, and I'm fine with it. I'm black and white, my fiancé is black, and my daughter is peachy with hazel eyes! I always said I wanted a Halle Berry/Angelina Jolie baby, and if she didn't look like that, she was going back in! My girl has her daddy's looks!
Visit Celebrity Parents Magazine to read more. Rain even talks about racism among African American People…