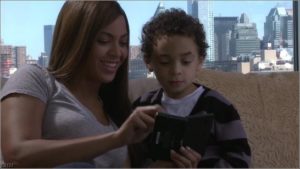 Singer Beyonce Knowles has wowed her nephew, Julez, the son of singer Solange Knowles.  The "Crazy In Love" singer will be making her voice-over debut in the Nickelodeon show, Wow!Wow! Wubbzy!, which happens to be her 4-year-old nephew Daniel Julez Smith  Jr's favorite show.
Beyonce will be the voice for Shine, the lead singer of girl group Wubb Girlz. This is what  the singer had to say about her role in the cartoon:  "The one challenging thing for me in playing the role of Shine was her voice. It's really, really high, and my voice is deep and a little husky."

She adds, "I told my nephew I was being considered for the role, and he didn't believe me. The episodes haven't aired on TV, so he still doesn't believe me. He's like, 'Yeah, right, Auntie BB, you don't know Wubbzy!' "
Beyonce will appear in four episodes of the show from April 27-30 at 10 a.m. ET/PT.