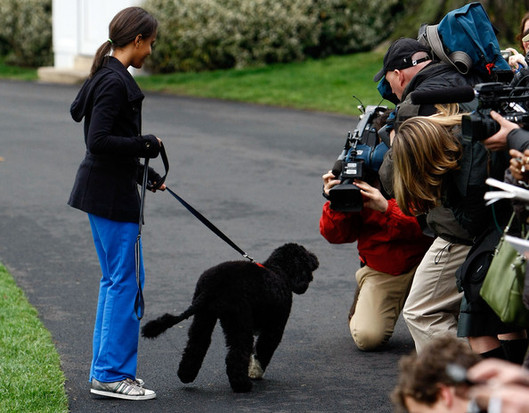 Six-month old Portuguese Water Dog, Bo Obama, made his White House debut yesterday afternoon(April 15th).  A swarm of reporters and photographers anxiously awaited for Bo's entrance on the South Lawn of the White House. Each member of the Obama family took turns telling the reporters a little bit about Bo.
The president started off by saying, "Here he is, the newest addition to the family." Several questions were then posed to the first family. Reporters wanted to know, for example, who would be walking the dog, to which the president responded, "We all have to take turns in walking the dog."  President Obama later said, "We're very pleased with Bo." 
So how do the girls feel about their new dog?
Malia, " I love him. He is perfect"
Sasha, "He doesn't know how to swim!"