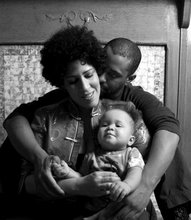 Comedian/Writer/Actress Rain Pryor recalls being pregnant with her now one-year-old daughter Lotus Marie. As written by Rain:
Lotus Marie, is our 12 month and 8 day old daughter. She lights up our world and challenges it all the time. She was a gift and miracle as far as I'm concerned. …
Yale (my partner) and I, had been trying to conceive for months. We had three, I repeat three miscarriages and I was devastated. Yale appeared to take the whole thing in great stride, due to his ability to meditate and stay present most of the time…LOL (that's a whole nutha story)… I was a total mess. Being 38 at the time, I felt too old, like my time had passed me by, like I had spent my life chasing after relationships I tried to make work, or dreams of happily ever after that had no basis in reality. (sigh).
Having a miscarriage is the one thing I've notice, no one wants to talk about. If they do it's in private like to say it aloud to more than one person would put you on some government list as a baby making outcast. In reality, miscarriages are common and eventually one is able to conceive or venture off into other methods if that's what the universe has in store.
Read more at Rain's parenting blog Click Here