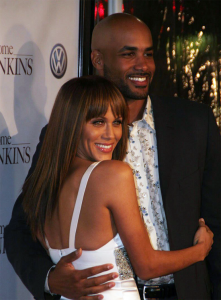 Rumors on the web allege that actors Boris and Nicole Kodjoe are expecting their third child. The rumors, according to the couple's publicist, are false.  In a statement released to Essence.com, the couple deny that they are pregnant and instead shed light on "R Baby Mother's Day Run / Walk in Central Park":
"The Kodjoes are looking forward to spending Mother's Day together this year in Central Park at the R Baby Run/Walk, which aims to ensure that every baby receives the best health care possible."
The Kodjoes are already  proud parents of two children—Nicolas, 2, and Sophie Tei, 4, who was born with Spina bifida.
Boris recently said the following about his daughter's condition: "Sophie was born with spina bifida, which is a neural tube defect. It's something where the spinal cord develops and doesn't close all the way. So, a lot of kids who suffer from spina bifida have brain damage, motor function issues, they can't move their legs, and they don't have any sensations," he explains. "I thank God that my daughter was spared those more severe effects.(Read More)