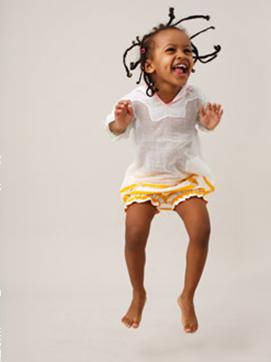 Model Liya Kebede's children's clothing line Lemlem has gone mainstream. Lemlem, which means to "flourish" or "bloom" in Amharic,  is now being sold by company J Crew. On April 8th, the fashion line debuted at the J. Crew Collection Store in New York City.
 Kebede started the fledgling children's line as a way to provide employment for traditional Ethiopian weavers. She tells USAToday,
"They had this incredible talent, but didn't really have a market," she said. "I wanted to introduce them to the Western market…to see if we can help that industry. I wanted to at least do my part for the country."
Liya has also said that she created the line to preserve her Ethiopian Culture with her two children Raee,3, who happens to be a model for the line, and son Suhul,8. Lemlem also happens to be Raee's(pictured) nickname given to her by her grandmother.
Six styles from the collection are being sold exclusively to J Crew. Liya soon hopes to expand the line with clothing for adults and little boys. Click to see more pictures of Liya's daughter Raee modeling the clothing
Check out the collection now!