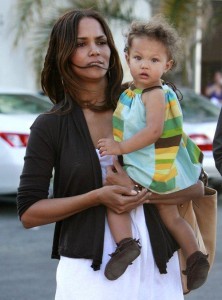 Actress Halle Berry admits to being a baby-clothes shop alcoholic, hating the paparazzi, and so much more in her latest interview with HarpersBazaar .
On how her body has changed since having Nahla:
Having a baby takes so much from you. It's the most glorious thing you'll ever do, but the aftermath is not so glorious! So now I'm having to exercise, eat a little bit differently, take a lot more vitamins.
On what being Biracial means to her:
Nahla will grow up in a completely different America. Obama is someone who's more like her than not, who shares her history. Hopefully she'll grow up in a world where it'll be easier than I had it. I had a rough time. I was accused of stuffing the ballot box for my high school prom-queen election because they couldn't believe the only black girl in the school won.
On having a family and her decreased desire to work:
I used to work a lot because I had nothing better to do. What I've learned, especially by having a baby, is that you can't bring that stuff home anymore. For example, I was alone filming Monster's Ball. I was married to someone else, and he wasn't really around much. Thank God that was only a 20-day shoot.
On her guiltiest pleasure:
Very boring, but I buy baby clothes online. Nahla can't wear all the clothes I've bought, and we don't go anywhere because I can't deal with the paparazzi. Gabriel's always like, "She doesn't even leave the house! Halle, you've got to stop."
On getting married again:
 No. I'm done. Also, I happened to find a person who feels done too, and he's never even been married before. So it works.
On having more children:
Yes. My pregnancy was amazing. I was happy that whole time, I felt good, I had energy, I was like Superwoman. I wish I could feel like that for the rest of my life, that's how fantastic it was.
On her favorite Hobbies:
I just want to be home for a while and swim in the pool, and I love to garden. I thought, Wouldn't it be great when Nahla can run out here and pick fresh fruit right in our own backyard? [Points to veggie patch.] We have an apple tree, a plum tree, a pear tree …
Click Here for entire interview