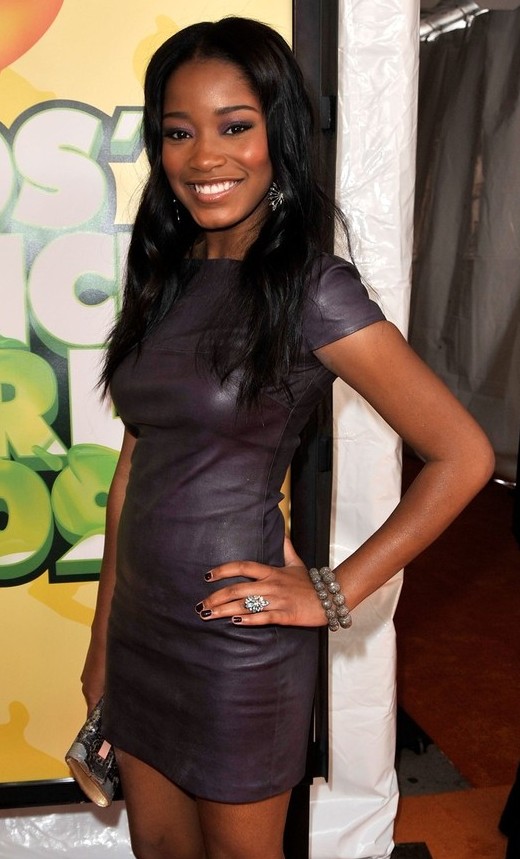 Teen star Keke Palmer has reacted to comments about the purple leather dress she wore to the Kids Choice Awards. Although BCK readers' comments weren't the worst(thank goodness for BCK comments' rules), she did cite Blackcelebkids.com as one of the blogs she wanted to address:
…I was going to ignore comments, but I decided that I should speak. Yesterday on the blogs[Blackcelebkids.com was listed first] below several people left comments saying that my purple leather dress that I wore to KCA's was" too short", or that I was " inappropriately dressed" for the KCA's.

Again, at first I was going to ignore their comments because I know haters are going to be haters, but a lot of people wrote comments that were totally incorrect like :

" she is 14 and too young to wear that dress"
" they are turning her into a slut , where are her parents"
" she is way too dressed up for Kid's Choice"

I feel I need to address some of these untrue statements, first of all I am not 14, or 11 like I was when I played Akeelah 4 years ago.

Secondly, I will be 16 years old and I wore a mini dress nothing was showing my breasts were covered, my thighs were covered ,when I bent over you could not see my panties or anything like that, it was a perfectly cut mini dress, and my parents are great parents they liked the dress and saw nothing wrong with it. As you can see from the picture below with Emma Roberts, her dress is the same length and we are teenagers what do you want us to wear? Both of us made Vogue's Look -of- the Day, hey that's not shabby!

Lastly, I have to wear heavy make up when taking a ton of pictures because if I don't my skin will photograph with blemishes and then people will write, " she looks bad, she should wear make up", so you see I cannot win for losing!

I just want to set the record straight, I know everyone will not like everything I wear, but a lot of thought goes behind every single outfit, trust me before I put it on Larry and Sharon Palmer have approved it ! So, please to all of my fans when you see me wear something that's young, hip, and might show my legs off a little bit don't freak out , I appreciate all comments the good ones and especially the bad ones , because that means you are paying attention! So please keep watching I promise I will never disappoint……..thanks to all the fans for your continued support, I love you guys!

Much Love Ya'll,
Keke P.
Click Here to read those infamous comments.