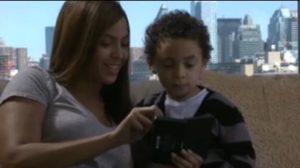 Singer Beyonce Knowles has been tapped to do a commercial for the new Nintendo DSi game Rhythm Heaven (in stores April 5) . Watch below as she and  her nephew Julez,4, have fun with the game.
In response to spending time with her nephew Julez, the singer says,  "Whenever I have downtime, I want to have the downtime with him, so this is very true to my real life.  It's great to kinda share a little piece of something so intimate with everyone." Watch Video..
Don't Miss Out! Allow Notification Click Here..