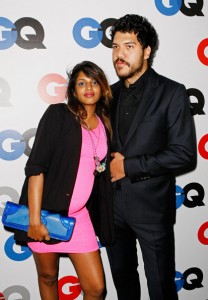 According a birth certificate Obtained by TMZ,  singer M.I.A's baby's name is Ikhyd not Ickitt. According to the document, Mathangi Maya Arulpragasam ak.a M.I.A and her fiance Ben Brewer,  named their son Ikhyd Edgar Arular Bronfman.
Just a few weeks ago, M.I.A wrote a note on her personal myspace blog to discredit rumors that she had named her baby Ickitt.  She wrote,
"My baby name is not called Ickitt, Pickit or Lickit, Thank You very much to all the Hollywood Press. He's a baby, he don't need press! I didn't release the baby name because i didn't think it was news! But I will be back with something newsworthy soon, till then, go pick on apple, satchel and moon unit."
BCK Says: Now that you know the baby's real name, do you think M.I.A overreacted with her note?