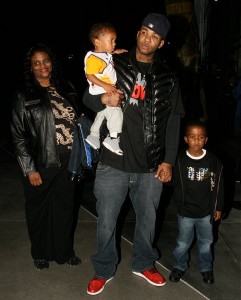 Rapper The Game prides himself on being a father figure to his sons Harlem Caron, 5 ½, and King Justice, 22 months.  The rapper, who was born to gang-affiliated parents and brought up in the foster care system, says that he wants his children to have a different childhood than he had. 
"I know that going through my childhood, if I ever had a child, I would raise my family differently, and that's just what I'm going to do. If I would have had a wonderful childhood, it would have been the same way. I understand fatherhood. I know that when you have a child, you accept the responsibility whether you like it or not; it's just what it is. If you're going to have children, you have to take care of your kids. Me, I'm a father figure. I'm great at displaying affection for my children, and I show them how much I love them all the time."
The Game may be a "father figure" but many might see his gang affiliation and him trying to be a father figure a contradiction.  The Game, however, makes no apologies for being affiliated with a gang. Moreover, he doesn't feel that he is a "bad influence" to the youth.
"Personally, people are going to do what they want to do, regardless. People can say that rappers being gang members and glorifying gangbanging on TV is, like, a bad influence on the youth, but I don't necessarily think so. I think the youth has been negatively influenced before gangbanging ever existed, and will be if it didn't exist. People, kids, they are going to do what they want to do. If it's not me or Snoop, then it's Arnold Schwarzenegger or Rambo. It's all entertainment. Once you understand that, you can kind of get a grip on why we're here and what we're doing. It's not any deliberate act, like we're trying to make someone join a gang; we're just trying to shed a light on something that has rendered us hopeless growing up before rap existed."